Hello all my wonderful fellow country living neighbors! It's been WAY too long since I've made a post and I sincerely apologize for my absence. It has been a crazy month with way too much going on, but things are settling down again so I am back to baking, blogging and enjoying my country life.
First, I want to tell you ALL about my daughter Ashley's AMAZING accomplishments! On May 6, 2011 she graduated from Navy boot camp and is now in Meridian, MS for A-school. She was just given her verbal orders for her first duty station...are you ready for this? She is going to Yokosuko, Japan! I can not even begin to tell you how proud we are. Out of all the negatives and struggles we've dealt with this past month, Ashley gave us something to be so proud of. Check out the video of her graduation! She was in a performing division and did an amazing job!
You know, the economy has left my business in tatters, and we've had some issues with our middle child, but just when I think I have failed miserably, something as wonderful as this happens. Seeing my daughter wearing the uniform of a United States Sailor for the first time was an experience I will never forget. Can you believe this magnificent creature is my daughter? I can't.
While away she was given standard military issue glasses, better known as BCG's or "Birth Control Glasses" because no one has ever been known to get "lucky" in them HAHAHA!! She said she looks like Erkle! I think she looks adorable! Check out her formal picture...
OK, so now that I've bragged about my amazing daughter and her amazing accomplishments, I'll move on to other things.
The last month has been pretty rough financially, but we're surviving it and actually, these tough times are just a good reason to become more self-sufficient because I do not believe that things are going to get better any time soon.
Last year I planted 35 strawberry pants and of course, the first year didn't yield any fruit. Well, all that changed this year! The plants spread to about 65 over the winter and early spring and the strawberries just exploded from everywhere! I had tons and tons of berries and for the first time ever, I made strawberry preserves! I preserved about 20 jars of the delectable fruit and gave some away to friends and family, but stored a bunch for winter. I compared it to the junk I was buying the the grocery store and not only was my jam made from organically grown berries with only natural sugar as a sweetener and some lemon juice to acidify the berries for preserving, it ended up being WAY cheaper. Not to mention, they are DELICIOUS!! This was my first time growing strawberries and I was pretty proud of myself and I impressed my hubby and family too!
The other thing I did to try and save some money was churn my own butter. Now I didn't sit with that wooden butter churn between my knees laboring away, actually, I found heavy cream on sale and used my Kitchen Aid. The butter was sweet and creamy and delicious and made the store bought butter taste like wax!! I'll never buy the store bought junk again! At least not if I don't have too! I also ended up with about 2 cups of fresh buttermilk which I used to make homemade banana bread. It was heavenly!
We ended up with 19 chickens, all brown laying hens after giving 10-away to a neighbor. Our coop wouldn't hold more than 19. The ladies are growing fast and almost ready to start laying! I am SO ready for those big, delicious brown eggs! I can't wait! AND, we were able to build the coop totally from recycled materials so it cost us practically nothing!
I keep hearing from our elected officials how the economy is getting better. Honestly, I can't see it. My grocery bill for 3 people each week is around $280 and that's without a lot of extras. My grocery bill when all the kids were home and there was 5 of us was about $300 per week, so I can't really see how this is getting better, add to that the fact that our government is trying to cut funding tot he FDA which is the same as killing us slowly if you ask me. It's enough of a reason for me to be totally committed to growing as much of my own food as possible and learning to make the things we call favorites. I've noticed that this isn't just a trend, it's becoming a movement and that's a good thing I think!
It doesn't really matter where you live, whether it be in the country or in the city or even in the suburbs, you can still produce some of your own food. My focus this summer is going to be on sharing how we're doing more, in a healthier way, with less. So, stay tuned, I promise I won't stay away so long next time.
In the meantime, here is the strawberry preserve recipe I used!
Soft Spread Strawberry Preserves
(I doubled this recipe and made multiple batches)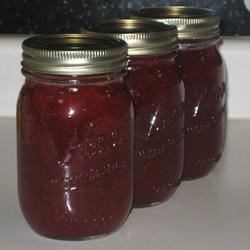 Ingredients
2 pounds fresh strawberries, hulled
4 cups white sugar
1/4 cup lemon juice
Directions
In a wide bowl, crush strawberries in batches until you have 4 cups of mashed berry. In a heavy bottomed saucepan, mix together the strawberries, sugar, and lemon juice. Stir over low heat until the sugar is dissolved. Increase heat to high, and bring the mixture to a full rolling boil. Boil, stirring often, until the mixture reaches 220 degrees F (105 degrees C). Transfer to hot sterile jars, leaving 1/4 to 1/2 inch headspace, and seal. Process in a water bath. If the jam is going to be eaten right away, don't bother with processing, and just refrigerate.
Place three plates in a freezer... after about 10 minutes of boiling place a tsp of the liquid of the jam onto the cold plate. Return to freezer for a minute. Run your finger through the jam on the plate... if it doesn't try to run back together (if you can make a line through it with your finger) it's ready to be canned!