I'm baaaaaaaaaaaaaaaaaaaaaaaack!
What a FANTASTIC 20 days we had with Ashley! She's off to Japan now and we got a call last night letting us know she arrived safely and so far, she LOVES it! Wow! What an adventure she is having and I just can't wait until we've saved enough to go and visit, We're hoping for next spring or early summer...so I get to look forward to an adventure of my own too! What's going to make it even more exciting is the fact that ALL of us are going! Louie is just beside himself with excitement! He's already announced on his Facebook wall that a trip to Japan is coming up!
The Washam Men - Louie, Kyler, Uncle Pat & Mike
Fourth of July weekend was extra, super, special this year. Not only was our Sailor home for the holiday, Mike's brother and his family came too! It's the first time we've had his family here and it was absolutely perfect. We had an AMAZING 4th of July complete with a massive BBQ buffet and our own fireworks display which was twice the size it normally is because Uncle Pat added 3 Holy Moley fireworks to the 2 Daisy Cutters we usually get and a box load of little stuff like roman candles, bottle rockets and all kinds of other stuff that explodes into delightful displays. The mountain was all lit up as others were doing the same thing we were. I have always said that our driveway is the best seat for watching fireworks, we see displays for miles around us and we don't have to deal with the traffic when it's over!
last night I went out to visit with the chickens, the girls are getting big and I'm pretty sure we got one rooster in the bunch, we can't tell yet, but it sounds like one of them is trying to crow. One rooster and 18 hens, he's going to be awfully busy! Bwahahahaha.... The coop is right next to the garden and I was delighted to see that my tomato plants have literally EXPLODED with tomatoes! I have no less than 500 Roma tomatoes growing with a thousand yellow flowers promising more! The cukes are PERFECT and so far I've got about 20 of which I'm going to pickle tomorrow into sweet pickles for Mike and the next batch I'll do dills. The corn is 4 feet high, the pumpkins are going wild and even after the wash out rain that took all my sunflowers I've got 4 mammoth sunflowers growing! Hey, it's better than none and I would have LOVED to see two full rows of those big beauties...there's always next year and I can still enjoy the 4 that survived! The watermelon plants are doing great and I got my beans, peppers, fennel, and Jalapenos and banana peppers planted. I love going out there and finding the veggies ready to pick and the strawberries are flowering again for a second crop... THESE are truly treasures! I love the fact that it's all grown right in my back yard with no chemicals or pesticides. For about $30 I have HUNDREDS of dollars worth of fresh produce.
One of our favorite summer time foods is Fried Green Tomatoes. We had them for 4th of July and they disappeared along with the fried pickles. Both of these dishes are southern specialties and family favorites. Growing tomatoes provides us with an endless supply of green tomatoes and I'm planning to can a few jars of pickles just for frying... If you've never tried a fried pickle and you like pickles... YOU GOTTA TRY THEM!! They are SCRUMPTIOUS! I've included a recipe below for you. It's my own spin on the classic...I just modified mine a bit. You can use this same coating for the pickles, just get a jar of dill pickle slices (the ovals work best) and serve them with Ranch dressing. Mmmmmmmmmm
Fried Green Tomatoes
Ingredients
4 large green tomatoes
2 eggs
1/2 cup milk
1 cup all-purpose flour
1/2 cup cornmeal
1/2 cup bread crumbs
1 teaspoons salt
Dash garlic powder
Dash (or more to taste) of cyanne pepper (optional)
1/4 teaspoon ground black pepper
1 quart vegetable oil for frying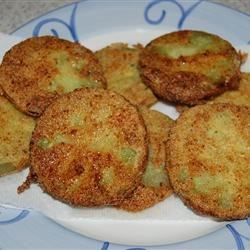 Directions
Slice tomatoes 1/2 inch thick. Discard the ends.

Whisk eggs and milk together in a medium-size bowl. Scoop flour onto a plate. Mix cornmeal, bread crumbs and salt and pepper on another plate. Dip tomatoes into flour to coat. Then dip the tomatoes into milk and egg mixture. Dredge in breadcrumbs to completely coat.

In a large skillet, pour vegetable oil (enough so that there is 1/2 inch of oil in the pan) and heat over a medium heat. Place tomatoes into the frying pan in batches of 4 or 5, depending on the size of your skillet. Do not crowd the tomatoes, they should not touch each other. When the tomatoes are browned, flip and fry them on the other side. Drain them on paper towels.